How to Get What You
Really

Want
( even if you have no goals, no character,
and you're often in a lousy mood )
You Should Be Doing What You Love
What have you always wanted to try?
What do you love to do and want to do more of?
What would you rather be doing than your current job?
Have you always wanted a career in television? A house by the sea? Your own horse? A terrific mate? A skinny body?
If you've got a wish, we'll help you remove the obstacles. If you're no longer even sure what you want, we'll help you figure it out.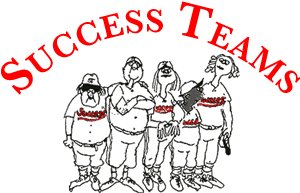 "The Success Team is everything your family should have been and probably wasn't."
Success Teams
Success Teams don't require self-improvement, selling, or recruiting others. Your Success Team will include three to five other people from this area interested in helping you get everything you want -- in return for helping them. They'll help you figure out what goals to go after and how to reach them. They'll knock obstacles out of your way just by sharing what they already know. They'll applaud your successes and give you a push when you need one.
Your Success Team leader, Patty Newbold, will guide you through a process — invented by Barbara Sher in 1974 and tested many times over — that will accelerate your progress and get you working as a team. After your eight-week startup training, you'll continue as a team for as long as you like, adding new goals as you make each wish come true. See the blue box for the schedule and price.
Idea Parties
Get a jump-start on doing what you love. You don't have to join a Success Team to participate. Bring some not-too-messy food to share, enough for four people. Pay $5 to help cover our advertising costs OR bring along a guest who's not yet on our mailing list and you're both free. We'll all brainstorm ideas and share information to eliminate the obstacles that are keeping us from doing what we love. Check the green box for dates and times. Register in advance by phone (267-372-1976) or e-mail (success@mostpi.com) to learn the location.
OK, What's the Catch?
There is none. This is a tried-and-true method based on Wishcraft (published in 1979 and now in its 19th printing) and Teamworks! (published in 1989) by Barbara Sher. Barbara has appeared on many Public Television stations and in the Wall Street Journal, Reader's Digest, Ladies Home Journal and other national media.
There are no gimmicks, no pyramid sales, no get-rich quick schemes behind this invitation. The Idea Parties are not sales pitches, just a chance to exchange ideas with others going after their wishes. My role as a Registered Success Teams Leader is to find you some team members and teach you and your teammates how to use Barbara Sher's approach to start living the life that you want to live. Your cost for the Success Team training is less than $35 per hour, which includes a notebook packed with copyrighted materials not available elsewhere.
Pomoma, NJ Success Teams Leader
Patty Newbold, President of MOST Performance Improvement and Registered Success Teams leader, leads Success Teams in the Atlantic City, New Jersey area. Barbara Sher, author of Wishcraft, I Could Do Anything If I Only Knew What It Was, and It's Only Too Late If You Don't Start Now, has authorized Patty to use her copyrighted program to help you get what you want from life.
Patty is a guide for Barbara Sher's online book clubs and her WriteSpeak program for new authors and speakers. She works closely with Barbara Sher on many projects.
Patty also graduated from Dr. Martin Seligman's six-month Authentic Happiness Coaching course and has earned the title of Certified Performance Technologist from the International Society for Performance Improvement for her management consulting work.
Media Reviews
Mademoiselle:
" It is the teams that distinguish this program from the rest. They carry the Success Teams system beyond apparently similar time-managment courses, creativity-training seminars and positive-thinking programs that furnish their participants with all sorts of good ideas and techniques, then turn them loose to struggle on -- and often fall flat on their faces -- alone. The Success Team, Barbara Sher's brainstorm, is everything your family should have been and probably wasn't. "
The Chicago Sun Times:
" With the team you've got the kind of machinery that keeps going whether you are on or off. This makes Sher's system different from all the other assertiveness and success seminars floating around practising versions of pop psychology. "
Viva:
" ...The Success Teams system offers an individually tailored goal-defining experience that is no more like today's typical, banal career seminar than pink is like scarlet. If we want big things for ourselves but are unsure of what these things are or how to acquire them, Barbara Sher offers answers. "
The New York Times:
" ...With the team on your side it makes sense to shoot for the big stakes--and in practice it seems to work, judging by talks with members on the teams now operating. "
The Boston Phoenix:
" ...The Success Teams seminar trains people to set goals for themselves and guides them through the thorny process of achievement. They learn no-nonsense techniques--flow charts, diagrams of time and plans and accountability systems. "
New Woman:
" The purpose is also to be a resource bank to each other--a purpose brilliantly demonstrated by the sparks that fly and the connections that click in the seminar as a whole. "
The Chicago Reader:
" The most valuable part of the program, the concept that is unique to Sher's system, is the network of helping hands...It's refreshing to see people leading cheers for each other, and that enthusiasm can be infectious."
The Village Voice:
" ...a psychic block party. Success Teams work. "


---
Register for the Jan - Mar 2019 Team here

We meet Tuesdays, 1 - 3 pm Eastern, Jan 15 - Mar 12 (no meeting Mar 5)